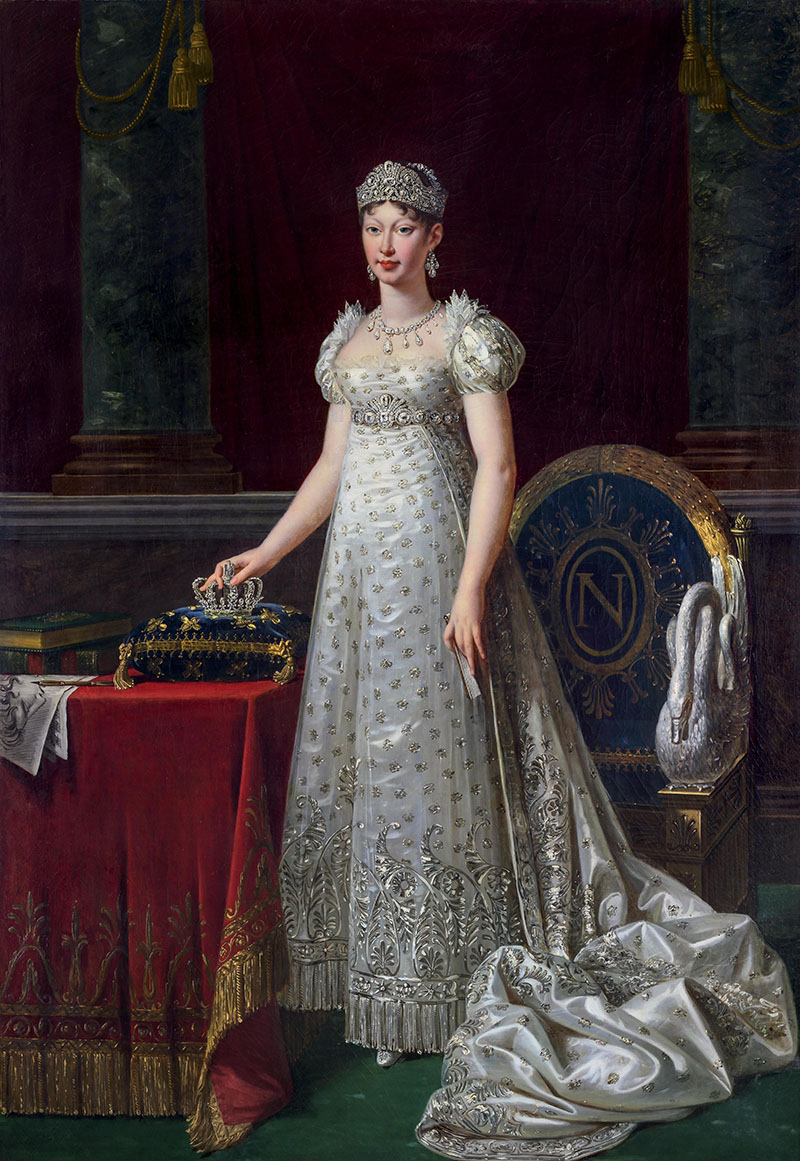 Marie Louise of Austria
Marie Louise of Austria, first child of the Emperor of Austria Franz I of Hapsburg and Princess Maria Teresa Bourbon of the Two Sicilies, was born in Vienna on December 12th, 1791.
At her father's Court she received an excellent cultural education and acquired a strong dislike of Napoleon Bonaparte, the man who was destroying the ancient, sacred dynastic order all over Europe. In 1810 she had to marry him for reasons of political convenience, thus becoming Empress of France. A year later their son was born: Bonaparte chose for his much desired heir the name of Napoléon François and the title of King of Rome.
In 1814, following a number of military defeats, Bonaparte abdicated and the throne of France was occupied by Louis XVIII of Bourbon. Napoleon was sent to Elba, while the Empress left France with their son and headed to Austria, hoping for protection from her father.
In 1815 the Congress of Vienna exiled Napoleon to St. Helena and confirmed the Duchy of Parma, Piacenza and Guastalla to Marie Louise who became better known as Maria Luigia. On April 19th, 1816 the new Duchess entered her States, wishing, as she wrote to a friend, to prove herself a caring and attentive sovereign.
She was accompanied by Count Adam Albrecht Neipperg, a general and diplomat acting on behalf of the Austrian Empire, who succeeded in making her a beloved figure in the Ducal states. Neipperg also won the heart of the Duchess: they had two children, Albertina and Guglielmo (who were given the title of Counts of Montenuovo) and married secretly in 1821, soon after Napoleon's death.
In the following years she had to face painful events: the sorrowful loss of Neipperg in 1829, a revolutionary uprising directed towards the new Minister Baron von Werklein in 1831, the death of her first son a year later and that of her beloved father the Emperor in 1835.
She often travelled to Austria and spent an increasing amount of time in her homeland; in her spare time she took pleasure and comfort in many activities, such as music, painting, reading and embroidery. In her final years, though affected by poor health, she could rely on the affection of Count Charles de Bombelles, whom she had married in 1834, of her daughter Albertina and her grandchildren Alberto and Stefano Sanvitale.
Maria Luigia died in Parma on December 17th, 1847; according to her will, she was buried in the Crypt of the Capuchin Church in Vienna.